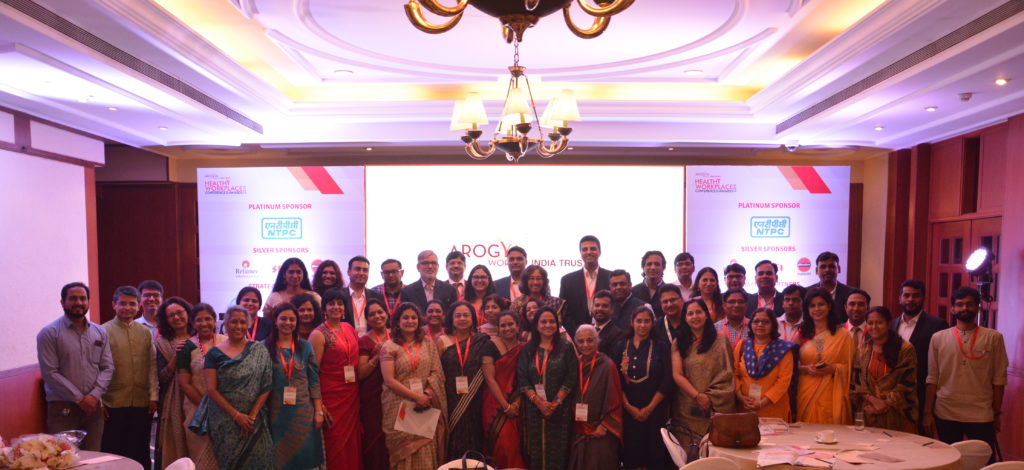 "The challenge is not in starting the work, but in how we sustain it. If people are your most important asset, what are you going to do for them?" – Dr. Ashwin Naik, Arogya World India Trust's trustee and panel moderator

The 2019 Healthy Workplace Conference and Award Event advanced the conversation on workplace health while honoring 15 companies as 2019 Healthy Workplaces. The annual event is a platform for change, a celebration, and a recognition of the best practices implemented by partners in promoting employee health and well-being at the workplace. The quality of the speakers and the thought put into the planning of the sessions, made it a great day of learning for all.
2019 Healthy Workplace Conference
The day's Conference provided a robust day of learning and advancing the knowledge of the attendees on topics as varied as nutrition, metrics, and organizational culture.
Dr. Indu Bhushan, CEO of Ayushman Bharat, gave the morning keynote address. Prof. Srinath Reddy, President of PHFI gave the evening keynote address. Pawan Agarwal, CEO of Food Safety and Standards Authority of India (FSSAI) was the Guest of Honor at the Awards Event.
Representatives from GlaxoSmithKline, Tata Consultancy Services, IBM Watson Health, Sodexo, Danone, Indian Oil Corporation, and more discussed the various aspects of the corporate workplace life and health of employees in India. Topics covered included Building Health Into Organizational Culture; Best Practices in Workplace Health; Building a Business Case for Workplace Health; Innovative Approaches to Employee Health; Tackling Mental Health in the Workplace; and more.
An estimated 869 million Indians will be of working age by 2020. They will spend most of their waking hours at their workplace. Approximately 20 percent of Indians have at least one chronic condition, a scary proposition. This puts employers in an ideal position to act as the vanguard in the fight against NCDs, and recognize early signs of the onset of NCDs in their employees.
2019's Health Workplace Award Winners
15 progressive companies were named 2019 Healthy Workplaces, taking the total number of employees touched through this program to over 3 Million.
Arogya World's 2019 Healthy Workplaces are:
Tata Consultancy Services
India Steel Summit Pvt. Limited
Dalmia Bharat Group
ABB India Ltd
Procter & Gamble, India
Texas Instruments
HSBC Global Services Centres India
Robert Bosch Engineering and Business Solutions Private Limited
Target Corporation India Private Limited
EXL Service
Power Finance Corporation Limited
Thermo Fisher Scientific
Jaslok Hospital and Medical Centre
Globaledge Software Ltd
JLL Property Consultant India Private Limited
These companies met Arogya's key criteria at the Bronze, Silver or Gold level and completed a formal, robust, direct, and transparent assessment and site visit.  For a complete list of Healthy Workplaces since 2013 click here.
The Healthy Workplaces include public and private sector companies, which span healthcare, IT-enabled services, manufacturing, consumer goods, energy, infrastructure, and finance.
Arogya World's 2019 Platinum Healthy Workplaces are:
Meenakshi Mission Hospital
Godrej Industries Limited and Associate Companies (GILAC)
Persistent Systems
Indegene Private Limited
Arogya World has championed the cause of NCD prevention at workplaces and is proud to acknowledge the admirable and effective efforts put forth by our Healthy Workplace partners.